Meet Our Team of Dog Trainers & Staff
Alyssa
Assistant Facility Manager
Alyssa is our jack of all trades! 
She is our Assistant Manager and has been a part of UCA for over 6 years. Alyssa always makes sure that both the dogs and clients at UCA are given the highest quality of care.
Alyssa works closely with our team to ensure a safe, enriching environment for all of the dogs in our care, both for training and daycare! 
She has taken courses through the Animal Behavior College, Leerburg Dog Training University, and is a graduate of Penn Foster's Dog Obedience Trainer/Instructor program, as well as their Small Business Management program. She is also double certified in Canine First Aid and CPR.
Alyssa has two dogs of her own. A 4-year-old Doberman, Delta, and a 3-year-old GSD, Nova! Outside of UCA, you can find Alyssa either at home with her fiance, Dillon or with her pups competing in various obedience and sports venues, such as FastCAT!
"My position with our team at UCA has allowed me so many amazing opportunities to learn and work with wonderful people and canines alike. To me, the best part of any day is seeing a dog's progress. Knowing that we can help dogs become happier and healthier, and help build better relationships between dogs and their owners, is an all-around great feeling. I wouldn't trade it for the world!"
Zach
Lead Trainer
Zach is our Lead Trainer. He received his Bachelor degree in Animal Science with a concentration in canines from SUNY Cobleskill. He is well versed in canine training, behavior, health, and nutrition. After his last semester of college, he ended up in South Carolina working at a canine facility where he became experienced in canine psychology, sport & police dogs, and of course, pet dog training. Most recently he completed the "Proper Use of the Electronic Collar" offered by The Michael Ellis School for Dog Trainers in California. Zach is also a certified AKC Canine Good Citizen evaluator. Zach strives to better the relationship between a dog and their owner and works hard to make everyone reach their full potential, both 2 legs and 4. Outside of work you can find Zach training his German Shepherd, Zora, or adventuring outside!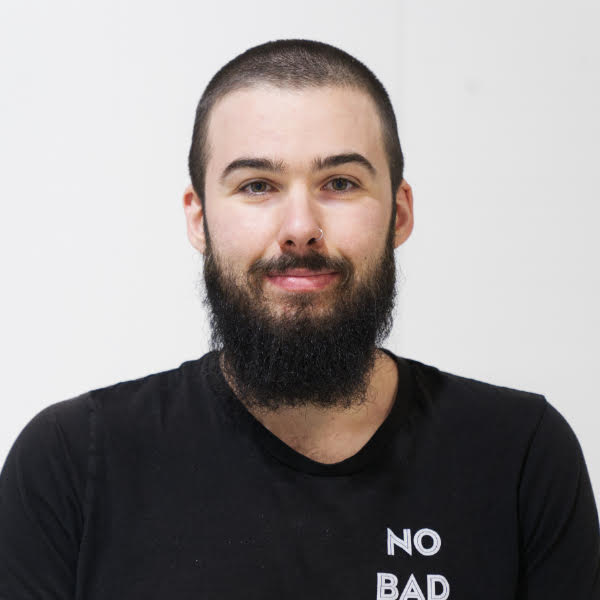 Kyle
Associate Trainer
Kyle is one of our associate trainers who works with our private training clients and board & train dogs. Kyle grew up on the North shore of Massachusetts. He has always had many dogs growing up. After high school, Kyle knew he wanted to pursue dog training. He worked at a doggy daycare and boarding facility where he learned a lot about body language, canine behavior and dog interactions. Kyle has completed the Dog Trainer certification through the Animal Behavior College. He took on many training clients of his own working on obedience and behavior modification prior to joining the team at Upstate Canine. Kyle is also an AKC Canine Good Citizen Evaluator.
He has a Malinois x American Staffordshire Terrier mix named Tuco, who he rescued from a shelter. In his free time, Kyle enjoys doing advanced obedience and hiking with Tuco.
"I love being able to help clients build a better relationship with their dog and allow them both to live a better life. My goal is to help as many dogs as possible!"
Kasen
Board & Train Trainer
Kasen is one of our board and train trainers. She has over 5 years of experience caring for dogs in both kennel and home environments and over a year of experience training and handling dogs. Kasen aims to send dogs home from the board and train program well mannered and better suited to live in their home.
"I love my job because I get to see the day to day progress in each dog that comes through the board and train program." Outside of work you can find Kasen hanging out with her German Shepherd, Mojoe.
Julia
Board & Train Trainer
Julia is a board and train trainer at UCA. She has always had a passion for animals and has worked in many aspects of the animal industry including daycares, rescues, veterinary hospitals, and training facilities. Julia's love for dog training began after she adopted a cattle dog mix who had some behavioral challenges and she wanted to help him become a more balanced and healthy dog. Julia's education started when she attended Essex Agricultural High School majoring in companion animal science where she studied animal behavior, training, husbandry, and grooming. In her free time, she loves spending time with her friends and rescue dog, Owen.
"My favorite part about working at UCA is being able to work with dogs and their owners. I love being able to see each dogs progress throughout their time with us!"
Taylor
Facilities Manager
Taylor is our facilities manager. She received her B.A. in Finance and Marketing from the University at Albany. Taylor oversees all of our day-to-day operations. She has been working alongside Tom for over 7 years, learning the ins and outs of the dog industry, and helping the Upstate Canine Academy offer the highest quality services. Her focus is the quality control of our services and continuing to bring an innovative, enjoyable experience to everyone who works with UCA.
Madison
Dog Daycare Attendant
Madison has worked in doggy daycares for over 10 years, including our daycare at UCA for several years. She is now our office receptionist working with our team to help as many dogs and owners get the help and training they need. She is your go-to person for any questions, scheduling, and will likely be the one you to talk to if you call our office!
"Working at Upstate Canine has been the most rewarding job. I love getting to know all of the dogs and their different personalities. I wouldn't want to have any other job!"
Hunter
Dog Daycare Attendant
Hunter has worked in the daycare here at UCA since September 2021. He grew up with many animals and has always had a genuine passion for them. He has learned a lot about body language and also has his certification in Cat and Dog first aid.
"I love my job here at UCA because I get to interact with many different breeds and personalities. It's a good feeling being able to create a safe environment for our furry little friends."
Elli
Dog Daycare Attendant
Elli has been a part of the UCA team since February 2022. They are a daycare attendant and part of the social media team, helping with daycare and boarding dog content and updating owners on their pups. Elli earned their BFA in Graphic Design at the College of Saint Rose, along with minors in both Photography and Art Therapy.
Elli has owned dogs their entire life, along with cats, birds, rodents, and various other small critters; they have loved animals from a young age. Elli's favorite jobs of many were dog walking and volunteer shelter/boarding work, and being a part of UCA has allowed Elli to discover more every day about dog behavior and different breeds.
Outside of work, you can find Elli in their apartment with their fiancé and their pets— a terrific flock of budgies, a lovely betta fish and snail, a sneaky green cheek conure, and Elli's best friend: their deaf pit mix, Echo. They love to read, write, draw, and play any kind of game in their spare time. They also dabble in freelance design, writing, photography, and dog walking for their friends.
"My favorite thing about working at UCA is the diversity in the dogs that I'm able to meet and interact with. It's fascinating watching them form bonds with one another and individual staff members. They all have their own very distinct personalities, and when they're all here together it's like watching one big, awesome pack just co-existing. The best part is being a part of that pack."
Ashley
Kennel Attendant
Ashey grew up on her grandparent's farm so her passion for animals started at a young age, and on a large scale. She dreamed of a career that would keep her around that lifestyle. That changed when she graduated Highschool. I started College, Pursuing a career in forensic Psychology quickly realized that was not what she wanted for her life. In 2020 Ashley's parents decided it was time to add a dog to their life again, and that's when she really figured out where she needed to be. Ashley not only educated herself about their dog but everyone around her as well. 
"I Love working at UCA because not only do I get to have fun at daycare, I get to know their owners a little as well. I get to see the progress of all of the Board & Train dogs. It's amazing to see how far they come from their first day to the day they leave!"
Outside of work, you can find me napping with my Great Dane Reggie (Reginald).